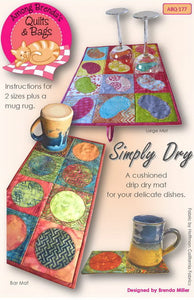 Among Brenda's Quilts
Pattern, ABQ, Simply Dry
Regular price
$8.00
$0.00
No More Drips!
I've been drying my dishes on a towel at the side of the sink for eons. Enter the new Simply Dry mat - it's perfect for stylish drying.
Simply Dry is a specially cushioned mat engineered to allow your delicate dishes to drip dry. When you're done with Simply Dry just hang it up to air dry or store.
Sew one for yourself and you'll soon be making them as gifts for others! An addictive technique using jelly beans and spots will make you smile!
 Related Product Links
---
More from this collection