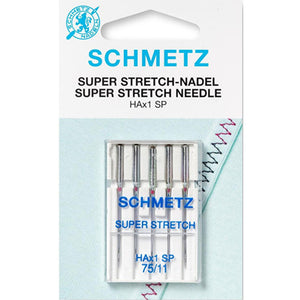 Schmetz
Schmetz Super Stretch Machine Needle 75/11 HAx1SP
Regular price
$7.49
$0.00
The Schmetz Super Stretch needle has a special flat shank which allows the needle to be closer to the hook.  Additionally the special design of the scarf area produces a larger needle thread loop which can easily be picked up by the hook. These features prevent skip stitches even on highly elastic fabrics.
The reinforced blade causes less needle breakage and also creates straighter stitches
As a result of the wider and shorter eye in combination with the widened groove the HAx1 SP is able to sew with thicker sewing threads than the usual Universal needle or Stretch needle.  The threads are less stressed and this in turn reduces breakage.
The HAx1 SP has a chrome coating which increase the resistance to wear and a medium ball point, which is suitable for all kinds of knits as it displaces the fibres avoiding material damage.
The Super Stretch Needle is suitable for all home sewing machines as well as some overlock machines that use the needle system 130/705 H. If your machine manual recommends a 130/705H needle style, the HAx1SP can be used in its place.
---
More from this collection