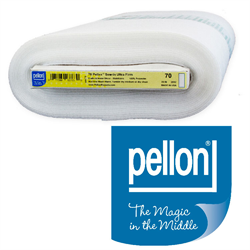 Pellon
Pellon, Peltex 70 Ultra Firm Sew-In Stabilizer
Regular price
$12.00
$0.00
Peltex Stabilizer - SEW-IN - WHITE - 20"
 - 
by Pellon Consumer Products
Pellon® 70 Peltex® Ultra-Firm Sew-In is an ultra firm, smooth, heavyweight, sew-in stabilizer for extra support. It is excellent for accessories, crafts, home decorating, and quilting. Peltex® is easy to sew, even when sandwiched in between other fabrics. It will not flatten or distort with steam pressing. It has no grain and can be cut in any direction.
- White
- Acid-Free 100% Polyester
- 20"width
- Easy to sew
- Heavyweight sew-in stabilizer
- Machine wash warm. Tumble dry low or dry clean.
- Sewing machine safe.
---
More from this collection