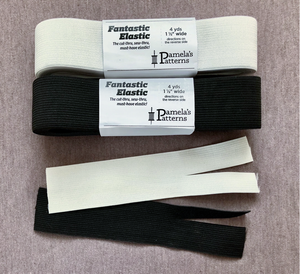 Pamela's Patterns
Elastic, Fantastic Elastic by Pamela's Patterns, 2 colors
Regular price
$16.00
$0.00
You can cut this elastic to your required width!!!!
1 ½" wide

 4 yard package 
Change how you use elastic forever! Available in white and black.
Fantastic Elastic will change how you use elastic forever! Now you can master elastic with a ready-to-wear look! Fantastic Elastic is 1-1/2" wide but can be cut lengthwise to virtually any width, down to 1/4", without raveling or compromising the stretch. This elastic gives Pamela's Favorite Bias Skirt (#106) and The Magic Pencil Skirt (#109), or any garment you make, a smooth waistline finish!  
This elastic does not roll and has a soft yet firm hold.
Easy to follow instructions included
---
More from this collection